WELCOME TO THE MISSOURI TRAPSHOOTERS ASSOCIATION
MTA Hours
Sunday:  10:00 AM to 4:00 PM
Monday: Closed
Tuesday: By Appointment Only for Youth Teams
Wednesday: 9:00 AM to 5:00 PM
Thursday:  9:00 AM to 8:00 PM
Friday: 9:00 AM to 5:00 PM
Saturday: 9:00 AM to 5:00 PM
Sunday: 10:00 AM to 4:00 PM
ATTENTION SHOOTERS
THE MTA WILL HAVE A PLENTIFUL SUPPLY OF SHELLS FOR SALE AT THE STATE SHOOT IN MAY, SOUTHWESTERN ZONE/SUMMER HANDICAP IN JULY AND THE FALL HANDICAP IN SEPTEMBER.
ATTENTION PRE-SQUADDING
Please be aware that when you pre-squad or squad at our state shoot, all bank numbers have shifted one bank East.  What that means is the bank East of the practice traps is now Bank 15 not 16 and the banks will follow in order from there both East & West!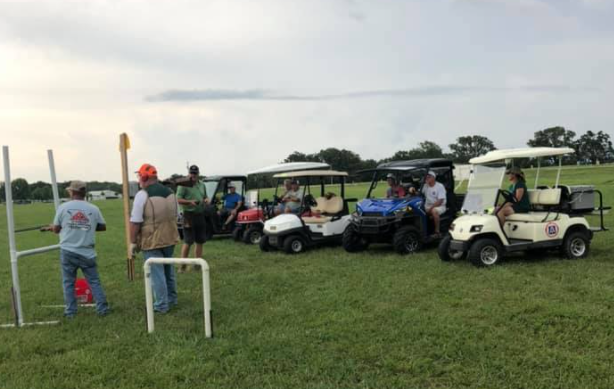 COME AND SHOOT OUR BLACKBERRY RIDGE COURSE! Our first course has been installed and is up and running. We have eight stations with two traps per station. You can bring your golf cart/ATV or walk the course as you prefer. You can drive your vehicle within easy walking distance of the course. Just check in at our clubhouse and then be on your way for some fun shooting! Individual shooting, private parties, corporate events and fund raisers are all welcome. Skip will be happy to assist you in planning and scheduling an event. Walk ins are welcome, but you might want to call ahead to make sure course has not been reserved for a private event.
SEE YOU SOON!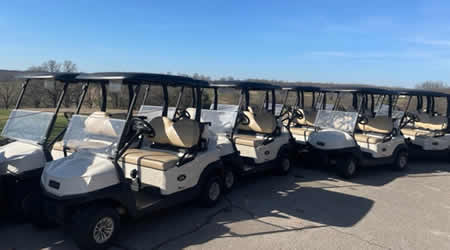 Golf carts are here at the MTA for rent on our sporting clay's course!
MISSOURI TRAPSHOOTERS ASSOCIATION
Public Trap Shooting Range at the Lake of the Ozarks
The Missouri Trap Shooters Association offers 60 traps, 30 & 50 RV camping, and vendor space at Linn Creek, which is located right in the middle of one of the premier vacation destinations in the United States, the Lake of the Ozarks. We are the 2nd largest trapshooting facility in the world.
We are open to the public!
Host your fundraising or special event
Fun for all ages and experience/skill level
Bachelor and Bachelorette parties welcome
Fun for families and friends to shoot together
Preserves the traditions of our sport
To request a program, vendor spots or camping information:
Phone: 573-346-2449
Email: motraps@gmail.com