WELCOME TO THE MISSOURI TRAPSHOOTERS ASSOCIATION
MTA IS OPEN NOVEMBER 25, 26 & 27
We are open normal hours for the three days.
MTA Sporting Clay's Christmas Special starts today and goes thru December 31, 2022.
The Christmas Special is 1,000 Sporting Clay's target for a discount price of $300.00. The card does not expire and you can buy as many blocks of targets as you wish.
This idea also makes a great Christmas present for those who are difficult to buy for and would like to shoot sporting clays!!
Any questions, please call us at 573-346-2449 or email me at skipklinger@ilj.com.
2022 FALL HANDICAP
THANK YOU to all the SHOOTERS that attended our 2022 Fall Handicap and making our shoot a success. Also, MANY THANKS to all our great sponsors for their very generous contributions and to Marg Graf of Graf & Sons for hosting the Shooter's Appreciation Fish and Chicken Dinner with all the trimmings Friday evening. We are forever grateful for the support of all our sponsors in making this a shoot for the shooters. In 2023 we have every expectation to be a Competition Factor of 5 and we only missed it by 25 shooters this year! We have plans to tweak the program for next year to make the shoot even more attractive and shooter friendly. Please remember, we, the board of directors, officers and management are there to serve you and do not hesitate to let us know what we can do better. The same thing applies when you are shooting targets. If the targets don't look right to you, let the scorer know and we will get an official to the trap and make adjustments as needed. Our Team has one goal.  It is to serve you to give you the best targets and the best experience possible. You deserve nothing less. We want nothing less.  Please mark your calendar and make plans to attend the 2023 Fall Shoot September 18-24.
2023 STATE SHOOT
In 2023 our State Shoot has been moved to one week later, May 22-28. As this will be Memorial Day weekend, if you need a motel room, make your reservations now as rooms fill up fast for Memorial Day weekend. You can discover a selection of 2500 affordable vacation homes and condos starting at $75 per night at vrbo.com Lake of the Ozarks. Also, as Memorial Day is Monday, and the shoot ends Sunday, you will have an extra day to return home!
HAVE A GREAT WINTER AND WE LOOK FORWARD TO SEEING YOU IN 2023
LAKE OF THE OZARKS SHOOTOUT & KOLAR GUN RAFFLE
LAKE OF THE OZARKS SHOOTOUT & KOLAR GUN RAFFLE 
The winner of this year's raffle was John Welsh from Camdenton, MO
CONGRATULATIONS JOHN!!
Please note: Only one gun was awarded due to the fact that only 200 tickets were sold.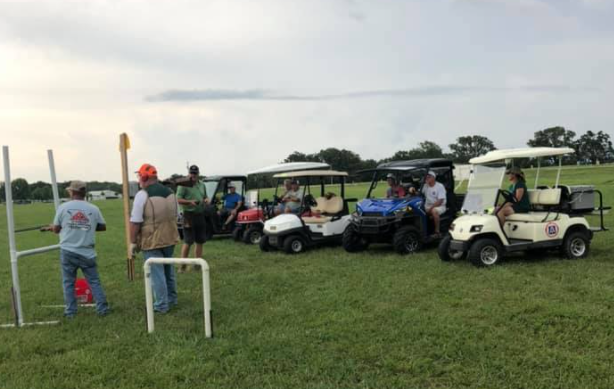 COME AND SHOOT OUR BLACKBERRY RIDGE COURSE! Our first course has been installed and is up and running. We have twelve stations with two traps per station. You can bring your golf cart/ATV or walk the course as you prefer. You can drive your vehicle within easy walking distance of the course. Just check in at our clubhouse and then be on your way for some fun shooting! Individual shooting, private parties, corporate events and fund raisers are all welcome. Skip will be happy to assist you in planning and scheduling an event. Walk ins are welcome, but you might want to call ahead to make sure course has not been reserved for a private event.
SEE YOU SOON!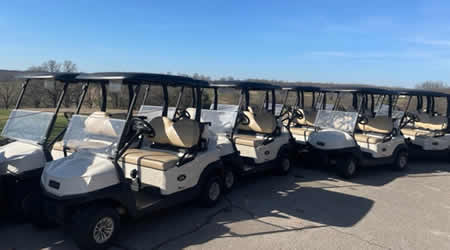 Golf carts are here at the MTA for rent on our sporting clay's course!
MISSOURI TRAPSHOOTERS ASSOCIATION
Public Trap Shooting Range at the Lake of the Ozarks
The Missouri Trap Shooters Association offers 60 traps, 30 & 50 RV camping, and vendor space at Linn Creek, which is located right in the middle of one of the premier vacation destinations in the United States, the Lake of the Ozarks. We are the 2nd largest trapshooting facility in the world.
We are open to the public!
Host your fundraising or special event
Fun for all ages and experience/skill level
Bachelor and Bachelorette parties welcome
Fun for families and friends to shoot together
Preserves the traditions of our sport
To request a program, vendor spots or camping information:
Phone: 573-346-2449
Email: motraps@gmail.com